Masterpiece starred review by Publishers Weekly
Masterpiece
received a Star review from
Publishers Weekly
:
"Broach (
Shakespeare's Secret
) packs this fast-moving story with perennially seductive themes: hidden lives and secret friendships, miniature worlds lost to disbelievers. Philosophy pokes through, as does art appreciation (one curator loves Dürer for "his faith that beauty reveals itself, layer upon layer, in the smallest moments"), but never at the expense of plot. In her remarkable ability to join detail with action, Broach is joined by Murphy (
Hush, Little Dragon
), who animates the writing with an abundance of b&w drawings. Loosely implying rather than imitating the Old Masters they reference, the finely hatched drawings depict the settings realistically and the characters, especially the beetles, with joyful comic license. This smart marriage of style and content bridges the gap between the contemporary beat of the illustrations and Renaissance art. Broach and Kelly show readers something new, and, as Marvin says, "When you [see] different parts of the world, you [see] different parts of yourself.""
Hush, Little Dragon review by the San Francisco Chronicle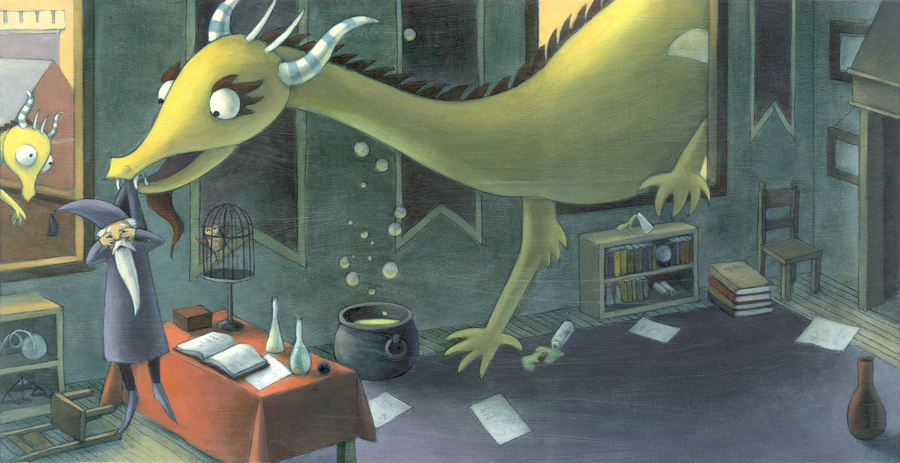 Regan McMahon, Chronicle Deputy Book Editor, gave a lovely
review in the San Francisco Chronicle
of
Hush, Little Dragon
this past weekend. I can't say that I could be any more thrilled about this spotlight for Boni Ashburn, Abrams Books for Young Readers, and myself!
"It's "Sweeney Todd" for the sandbox set."
Masterpiece starred review by School Library Journal
Masterpiece
received a Star review from School Library Journal:
"Broach combines discussion about the art of Albrecht Dürer with a powerful tale of friendship in a novel that is entertaining and full of adventure. Marvin is a beetle, and he and his family live in the Manhattan kitchen that belongs to the Pompaday family. When James receives a pen-and-ink drawing set for his 11th birthday, Marvin discovers that he is a bug with artistic talent. Although he can't speak to James, they soon bond in a true interspecies friendship, and their escapades begin. Because of Marvin's wonderful drawing, presumed to be James's work, the boy is recruited to create a fake Dürer for the Metropolitan Museum of Art to help trap an art thief. Marvin produces the forgery, but he soon realizes that the original artwork is in danger. Only by placing his life on the line and relying on James's help can he save the masterpiece. Broach's projection of beetle life, complete with field trips to the family's solarium and complex uses of human discards for furniture and meals, is in the best tradition of Mary Norton's The Borrowers (Harcourt, 1953) and similar classic looks at miniature life. Murphy's illustrations add perspective and humor, supporting the detailed narrative. A masterpiece of storytelling."
-Beth L. Meister, Milwaukee Jewish Day School, WI
Masterpiece review by Booklist
A delightful
Masterpiece
review by Booklist:
"James lives an invisible existence in a grand apartment on the Upper East Side. His mother, busy with her new husband and baby and her climb up the Manhattan social ladder, has little time for him. By contrast, Marvin, a beetle whose overprotective, extended family resides behind James' mother's kitchen, gets more attention than he wants. The two find friendship when James' artist father gives him a pen-and-ink set, and Marvin discovers his talent for "drawing," crafting delicate, museum-quality miniatures with his legs. When Marvin and James find themselves embroiled in a plot to steal a Dürer drawing from the Metropolitan Museum, they must find creative ways to communicate to foil the thieves and protect the masterpiece. Murphy's own pen-and-ink spot art reflects the text's sweet insouciance. With suspense, art history, complex family relationships (human and arthropod), and a resonant friendship, this enjoyable outing will satisfy the reserved and adventurous alike. Grades 3-6."
-Thom Barthelmess
Masterpiece review by Kirkus Reviews
A laudatory
Masterpiece
review by Kirkus Reviews:
"Delightful intricacies of beetle life . . . blend seamlessly with the suspenseful caper as well as the sentimental story of a complicated-but-rewarding friendship that requires a great deal of frantic leg-wiggling on Marvin's part. Murphy's charming pen-and-ink drawings populate the short chapters of this funny, winsome novel."