The Boll Weevil Ball review by Kirkus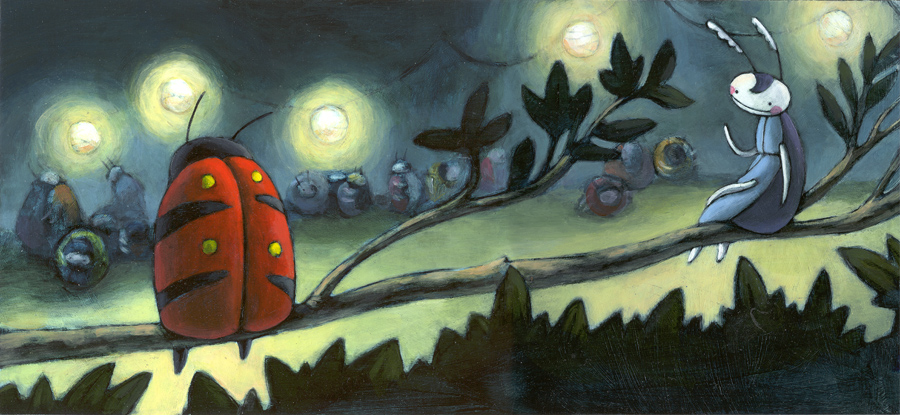 The Boll Weevil Ball
review by
Kirkus Reviews
:
"A tiny beetle finds the perfect dancing partner in this endearing, if awkwardly written, debut. So short that only the top of his head shows in a family portrait, Redd nonetheless decides that he's going to the Boll Weevil Ball. Arriving "a little frazzled" after hitching a wild ride on a passing cricket, then almost getting squished on the dance floor, he sadly climbs onto a branch to watch-and meets Lily, a lightning bug just his size. She lifts him up, and the ensuing self-lit, aerial Weevil Waltz brings all of the earthbound dancers to a standstill. Though some lines aren't as well phrased as they might be-"Suddenly, legs and feet flew at him from all directions"; "Finally, Redd was as tall as his big brothers"-Murphy's stubby limbed, dot-eyed insects are brightly decorated and pose gracefully in romantically lit nighttime scenes. A pleasant take on the idea, which children are always receptive to, that size and success are not necessarily related. (Picture book. 5-7)"
The Boll Weevil Ball review by Publishers Weekly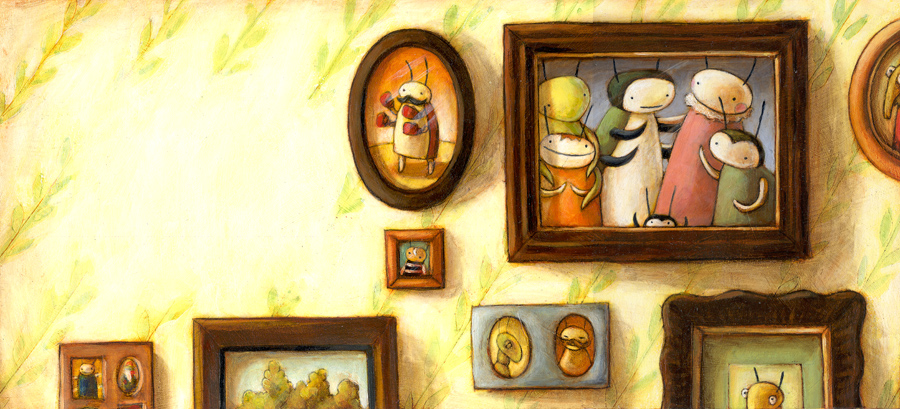 The Boll Weevil Ball
review on
Publishers Weekly
:
"Redd, a very little beetle-perhaps "the smallest beetle ever"-has been invited to a big event: the Boll Weevil Ball. But being a social butterfly is quite a struggle for such a tiny bug: just getting the invitation out of the mailbox makes scaling K2 look easy, and he nearly gets trampled on the dance floor. Yet when Lily, a pretty firefly, takes him for an illuminated whirl in the sky, Redd finds he has the sophistication and grace of a winged Fred Astaire: "Redd and Lily danced the Weevil Waltz flawlessly, high above a sea of antennae." Making her children's book debut, Murphy's text and paintings work in tandem to convey the action and emotion leading up to the ball. In a family portrait, for example, only Redd's eyes and antennae appear. A lovely understated humor animates the spot illustrations (in one, Redd nearly drowns in a punch cup), while full-page and full-spread paintings highlight a variety of perspectives (Redd being left behind by his siblings; a view of the dance floor from above). The hero's expressions and body language convey a winning vulnerability and quiet resolve, and the night scenes at the lantern-lit ball, rendered in deep blues and greens with splashes of yellow, evoke a painterly, romantic beauty. Ages 4-7."
The Boll Weevil Ball review by School Library Journal
The Boll Weevil Ball
review on
Publishers Weekly
:
"When the Beetles head for the Boll Weevil Ball, Redd is left behind. He grabs hold of a cricket's leg and finally arrives at the party. He is so small that when he tries to drink a glass of punch, he falls off the table and lands in the middle of the dance floor where he is in danger of getting trampled. He manages to climb to higher ground on a tree branch and decides to watch the other guests, but his luck changes when he meets another small bug sitting on the branch. Her name is Lily, and she is a firefly. The two new friends dance in the night air high above the rest of the partyers. Splendidly done in watercolor, gel medium, and acrylic, each picture has a textured finish that encourages children to reach out and feel the pictures. The warm blues and greens and muted reds create the perfect ambience. Young children will identify with Redd's predicament and will laugh aloud as the little beetle tries to fit in at the dance."
-Kristin de Lacoste, South Regional Public Library, Pembroke Pines, FL