"The Miniature World of Marvin and James" reviewed by Publishers Weekly
A
wonderful review
of Elise Broach and Kelly Murphy's
The Miniature World of Marvin and James
, by
Publishers Weekly
:
"Broach and Murphy bring back James and his beetle best friend, Marvin-previously seen in 2008's acclaimed Masterpiece-in this first book in the Masterpiece Adventures series of chapter books. Their cross-species friendship is just right for a younger crowd, and so are the insecurities and frustrations Marvin is feeling as James prepares to go on a trip to the beach without him (...)
Murphy's pen-and-ink illustrations shift from glee to horror as she shows the bug-eyed beetles cannonballing into the soft pit of pencil shavings, only to have their escape route plugged by a pencil. Despite the simplicity of Broach's pared-down sentences, the story brims with both emotion and moments of quiet wisdom."
"The Mouse With The Question Mark Tail" a Publishers Weekly Best New Book for the Week of July 1, 2013
The Mouse With The Question Mark Tail
is a
Publishers Weekly Pick
as one of the
Best New Book for the Week of July 1, 2013
.
Starred review from Publishers Weekly for "The Mouse With The Question Mark Tail"
The Mouse With The Question Mark Tail
received a second
starred review, from Publishers Weekly
:
"As endearing as Peck's Secrets at Sea, this companion novel, also set during the Victorian era and accompanied by Murphy's carefully detailed pencil illustrations, introduces a new cast of memorable mice born and bred in London... Readers will gleefully suspend disbelief as they trace Mouse Minor's exciting journey, which draws him to a life-altering revelation and surprise reunions with friends and foes."
Starred review by Publishers Weekly for Secrets At Sea
Secrets At Sea
received a
starred review from Publishers Weekly
:
"...Readers-especially fans of Beatrix Potter-will revel in the detailed descriptions of mouse-sized joys, woes, and love connections, all beautifully depicted in Murphy's soft pencil illustrations."
Masterpiece starred review by Publishers Weekly
Masterpiece
received a Star review from
Publishers Weekly
:
"Broach (
Shakespeare's Secret
) packs this fast-moving story with perennially seductive themes: hidden lives and secret friendships, miniature worlds lost to disbelievers. Philosophy pokes through, as does art appreciation (one curator loves Dürer for "his faith that beauty reveals itself, layer upon layer, in the smallest moments"), but never at the expense of plot. In her remarkable ability to join detail with action, Broach is joined by Murphy (
Hush, Little Dragon
), who animates the writing with an abundance of b&w drawings. Loosely implying rather than imitating the Old Masters they reference, the finely hatched drawings depict the settings realistically and the characters, especially the beetles, with joyful comic license. This smart marriage of style and content bridges the gap between the contemporary beat of the illustrations and Renaissance art. Broach and Kelly show readers something new, and, as Marvin says, "When you [see] different parts of the world, you [see] different parts of yourself.""
Fiona's Luck review by Publishers Weekly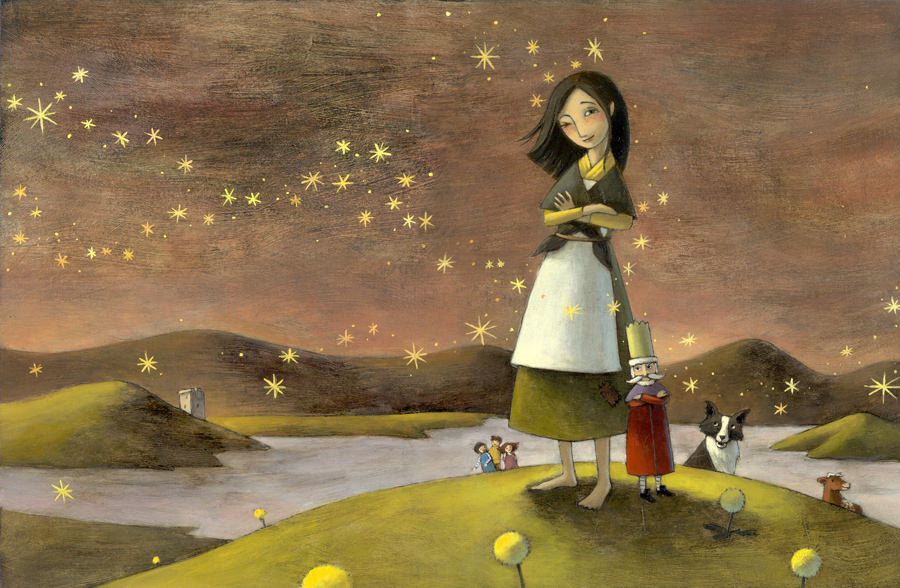 Fiona's Luck
review on
Publishers Weekly
:
"...Murphy's (Boll Weevil Ball) textured mixed-media compositions, in a predominately dusky palette, keep pace with the action. Freckle-faced Fiona's changeable expressions hint at her scheming and the lively sweet-faced leprechauns flit across the pages."
The Boll Weevil Ball review by Publishers Weekly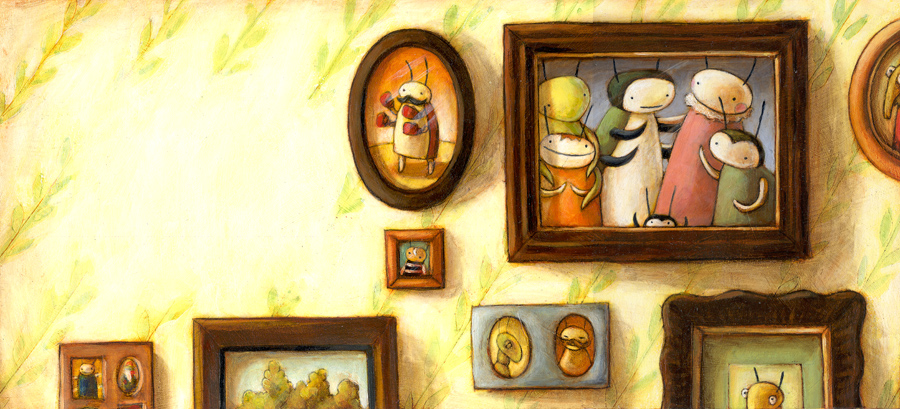 The Boll Weevil Ball
review on
Publishers Weekly
:
"Redd, a very little beetle-perhaps "the smallest beetle ever"-has been invited to a big event: the Boll Weevil Ball. But being a social butterfly is quite a struggle for such a tiny bug: just getting the invitation out of the mailbox makes scaling K2 look easy, and he nearly gets trampled on the dance floor. Yet when Lily, a pretty firefly, takes him for an illuminated whirl in the sky, Redd finds he has the sophistication and grace of a winged Fred Astaire: "Redd and Lily danced the Weevil Waltz flawlessly, high above a sea of antennae." Making her children's book debut, Murphy's text and paintings work in tandem to convey the action and emotion leading up to the ball. In a family portrait, for example, only Redd's eyes and antennae appear. A lovely understated humor animates the spot illustrations (in one, Redd nearly drowns in a punch cup), while full-page and full-spread paintings highlight a variety of perspectives (Redd being left behind by his siblings; a view of the dance floor from above). The hero's expressions and body language convey a winning vulnerability and quiet resolve, and the night scenes at the lantern-lit ball, rendered in deep blues and greens with splashes of yellow, evoke a painterly, romantic beauty. Ages 4-7."